Did you know there are people who want to have a chalkboard around them all the time?
Some folks can't stop doodling…
the whole day.
In the office, on the road and even at home. The great thing is you can just paint you have with chalkboard wall paint. And have a huge empty space to get your juices going.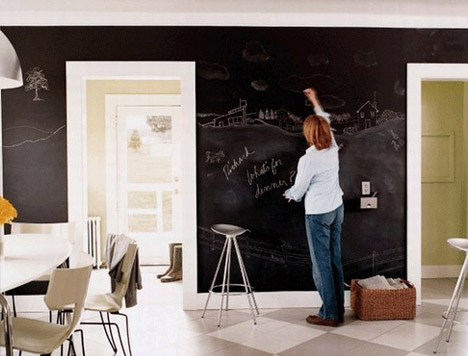 Some architect and interior designers have full rooms , intended to invite scrawls, notes and artwork from guests on blackboard kitchen and living room walls. Feeling adventurous and you too can add chalkboard coating to doors, tables and other furniture as well – in dark slate gray/black or classic 'schoolroom green' as desire
At the beginning of the day you have a blank black-slate surface and end of the day its one bit in creative chaos – greats for homes with kids, or ones with evil genius scientists perhaps.
Here a fun one for the kitchen is spotted and combines my love for skating. Great work longboards USA.
Note: an eraser will never quite clear all the dust the way a wet cloth cleans up a dry-erase white board, so plan on living with the aftermath of this architectural choice.
Till the next one,
Regina.